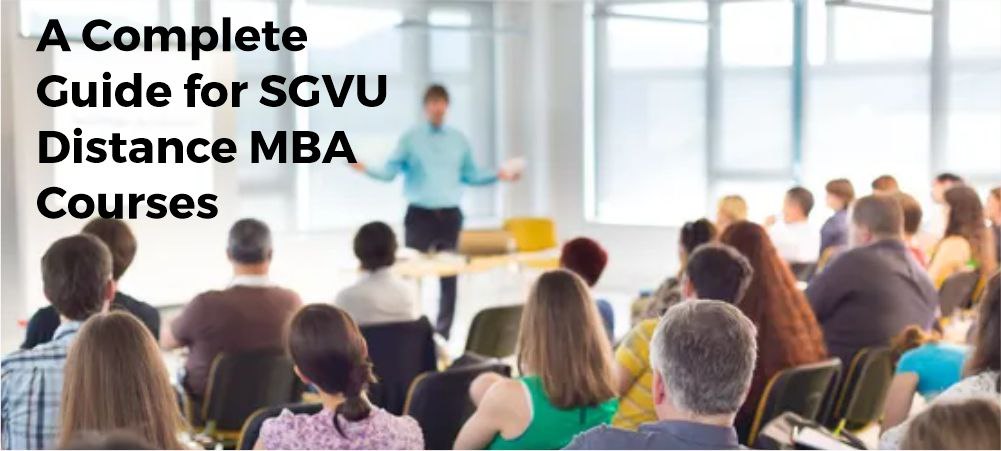 The MBA and its many specialties are in great demand across the world, from new graduates to seasoned professionals. Fresher's benefit immensely from MBAs, while seasoned professionals benefit from the opportunity to break out of a rut and prepare for more difficult tasks, richer compensation packages, and more responsibility.
Many students find MBA programmes costly, even though they're in high demand. As a benefit, online MBA programmes have broadened access to the field. It provides a great deal of flexibility, convenience, and accessibility since it can be taken from the comfort of your own home even by working professionals.
In addition to the low registration fees, attendees may save money on travel, housing, meals, and other expenses by taking this course online. Suresh Gyan Vihar University is a top remote education university that offers online distance MBA courses (SGVU).
A comprehensive list of SGVU's online MBA programmes may be found here.
About
In 2012, SGVU was formed to give excellent education to people who are unable to attend traditional institutions due to financial constraints. SGVU-DE provides BBA, BCA, MCA, and MBA as bachelor's and master's degree programmes.
In terms of online MBA courses, there are 22 specialties to choose from. In order to suit the needs of today's businesses, these courses are intended to be application-oriented and multidisciplinary.
Recognition and Acceptance
AICTE, AICTE, and University Grants Commission have approved all 22 of its distance MBA programmes (for technical courses). Having this certification signifies that the program's content and quality meet the requirements of remote MBA programmes.
SGVU offers the following 22 distance MBA specialisations:
Financial Institutions Branding and Advertising
Business Intelligence
Entrepreneurship in Digital Advertising
Marketing and e-commerce management
Accounting and Budgeting
Analysis of Financial Situations
Management of Foreign Trade and International Business
Management of Healthcare
Management of Human Resources
Investment Banking and Wealth Management
IT Management
International Marketing
Marketing management
Mass media
Management of the Media and the Entertainment Industry
Management of operations and the production of goods
Management of Projects
Management of Risks
Pedagogy
Students in the online MBA courses are taught by qualified and competent professors who use hands-on pedagogical approaches to help them prepare for the difficulties and expectations of their chosen profession. The online education platform is used to teach the distance MBA courses.
There are no pre-recorded lectures, and all lectures are interactive and live. As a result of the utilization of visual aids and cutting-edge technology, students are better able to comprehend topics and learn more effectively.
Project work is a requirement in every online MBA programme. Online student communities, a digital library open 24 hours a day, supplementary resources, visual materials, and gamification are some of the tools available to educators to help students study more effectively. It also provides career preparedness, counselling, placement help, mentorship, and networking with industry heavyweights, etc.
Examinations
There is a two-tiered system of evaluation, with 30 percent for continuous evaluation and 70 percent for the end-of-term exam. A viva voce component is part of the project work. Enroll in an SGVU industry- focused distance MBA programme to further your professional career.